Speaking at the Press Conference and Gaining Momentum
Going to DC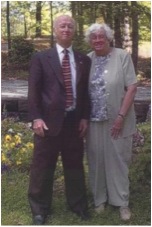 I'm in the midst of preparations to attend a Sorrow to Strength conference in Washington DC. The conference, the first weekend in May, is put on by The Truck Safety Coalition (see https://trucksafety.org/) and is attended by survivors and families of truck crash victims. We spend a few days together talking about truck safety issues, lobbying on Capitol Hill and remembering the people we've lost. It's an oddly fun and sad experience all at the same time, and one that my siblings and I look forward to in a weird sort of way. It's comforting to be with people that know how we're feeling and have been through the same wide range of emotions, yet it's hard to look around a room filled with people all hurting from the same experience. Especially when so many of our losses could have been avoided.
What really gets me the most is listening to the stories on the first evening. We all stand up and tell the short version of what happened to our family, the horrific events that led us to this conference room in a DC hotel. You hear the stories, one after another, and so many of them are exactly the same; someone was struck from behind by a tractor trailer driven by a tired, inattentive, or sometimes drugged driver. Usually a driver who had been on the road more hours than was legal, trying to make a buck, trying to support a family, trying to get by. And now here we are, just a fraction of the 5,000 families affected like this every year, in a room trying not to cry as we each describe "our" crash. Regardless of the details most stories end the same. Someone is gone. Sometimes someone survives, but at such a cost. Always the pain is there. That's what gets me mad. And sad. And what makes me go to Washington, to talk to Senators and Representatives, to their staff people, to the press. To anyone that will listen. To you. Because so much of what the trucking industry appears to view as "collateral damage" doesn't have to happen.
I know that I'm just one person. But in that room, this year on the first weekend in May, will be too many people, too many families, too many broken hearts. For one weekend we stand united; we will have a presence and maybe someone will see us. Maybe someone will listen. Maybe, just maybe, we can begin again to make a difference. We've lost family members, but we haven't lost hope that change is possible. Change can start with one person. Dad believed that and so do I.
This trip is for you Dad. Miss you.
Here in DC it's raining…..
It's raining here in DC. Outside and in our hearts. We've attended two days of meetings with other grieving families. We've learned a lot about pending trucking legislation. We've hugged a lot. We've cried a lot.
We're headed off now to meetings on the Hill. I'm doing a press conference this morning which makes me nervous, but I remember Dad, and he makes me strong.
I'll tell you all about it when I get back home. It's sad, it's empowering, it's confusing, and sometimes it's overwhelming. Always Dad is in my heart.
Homeword Bound
I leave in a few minutes, taking the metro to the airport. This year I feel better about my experiences at our "Sorrow to Strength" conference. Maybe it's because we had a specific issue to fight for; freezing the size and weight of big rigs. Maybe it's the Senate bean soup I had for lunch yesterday in the Senate basement cafe. I don't know. I'll think about it on the flight and let you know.
StopBiggerTrucks.org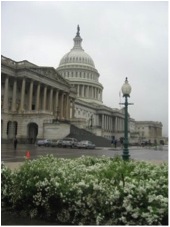 The gist of my statement at last Monday's press conference was to ask for people to go to our new website: www.StopBiggerTrucks.org and sign a petition to continue the freeze initiated in 1991 on the size and weight of semi-trucks. If you're interested in this issue, please go to that website, look around, and if you can, sign the petition. Below are some of the comments I made Monday morning to the press:
Good morning. My name is Dawn King and I am here today along with my siblings to honor my father, William H. Badger, who was 75 years young when he was killed two days before Christmas 2004. He was stopped in traffic when a tractor-trailer driver fell asleep at the wheel and slammed into his car.
My dad was a husband, a father, a brother, a friend and a colleague. He was a world traveler and lifelong learner, he was interested in everything, and shared the things he knew and the stories he lived with us all. He was everyone's handyman, comfort and support; everyone was his friend. And his friends called him Bill.
Since my family's tragic loss I have joined CRASH — Citizens for Reliable and Safe Highways. I am now on its Board of Directors and I have been part of our First Response team to assist other grieving truck crash victims.
The American public needs to know that the American Trucking Association is once again pushing Congress to increase the weight and size limits of trucks on our highways and bridges. If the ATA gets its way, the current 80,000 pound limit will increase to 97,000 pounds. That's a 21% increase. They won't tell you that history has repeatedly shown that truck size and weight increases do not result in fewer trucks on our highways. They also won't tell you that the engines needed in these heavier and more dangerous trucks produce more pollution than today's standard tractor-trailers.
Between 2003 and 2007 alone, 535 people were killed in truck crashes in Michigan. To our elected officials who we entrust with our lives we say, you can change our laws, but you can't change the laws of physics. We know that bigger and heavier trucks will result in more damage to our roads and bridges and more deaths and devastating injuries to people who attempt to share the roads with these big rigs.
Let's not forget the I-35 bridge collapse in Minneapolis in 2007 that killed 13 unsuspecting people, injured an additional 145 people, and horrified our entire nation.
Today, an estimated 162,000 of the nation's 600,000 bridges are structurally deficient or functionally obsolete. As Congress makes a decision on the next federal surface transportation act, they should consider this: Will giving into the truck lobby cause more or less damage to our nation's network of highways and bridges that we as taxpayers pay to repair? Will bigger trucks mean more or less death and disabling injury?
We all know the answers to these questions. That is why I am here to stand with other daughters, sons, sisters, brothers, mothers and fathers who are turning their sorrow to strength to make sure that decisions made by our lawmakers in Washington this year are truly in the public's interest.
Please visit StopBiggerTrucks.org to sign the petition in support of the Safe Highways and Infrastructure Protection Act – known as SHIPA, to freeze truck size and weight limits at the current level. The SHIPA legislation is endorsed by the truck drivers of the Owner-Operators Independent Drivers Association and the Teamsters, by environment groups like Environment America, and by safety organizations like CRASH, Parents Against Tired Truckers and the Truck Safety Coalition.
We also know that public opinion is on our side. So, please go to StopBigger Trucks.org and let your voice be heard so that together we can draw a bold line in the pavement against bigger and heavier trucks. Before it's too late.
Thank you.
Follow up: December 2009 – DOT and FMCSA Meetings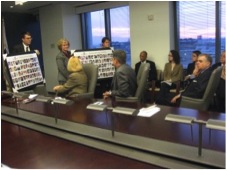 It's hard to know where to start talking about the Truck Safety Coalition's meetings with the Department of Transportation and the Federal Motor Carrier Safety Administration over the last two days. First of all it's important to understand that the past relationship between us and these agencies hasn't always been close. OK. Let's be honest, there just hasn't been any workable relationship with them at all in the past. I attended a meeting in 2005 where I and members of other grieving families told our stories and asked for help enforcing existing safety rules. The DOT staff sat stone faced, finger pointing at each other and other agencies and nothing ever came from any of our meetings. So it was with great hope that we accepted the invitation from newly confirmed Administrator Anne Ferro (we lost our vigorous battle to have her denied confirmation as head of the FMCSA) and the Secretary of Transportation Raymond LaHood to meet and talk about our (hopefully mutual) goals.
In a strange sort of way perhaps we are lucky that Anne Ferro, a member of the trucking industry lobby, was nominated by President Obama. Because she was, and because we made such a ruckus about her, we got noticed. Our squeaky wheel got attention. And so it was that I found myself sitting in a big leather chair around a giant conference table in the DOT; sitting with a couple of other families, several attorneys, and other safety advocates including Ralph Nader. I was sitting right next to Secretary LaHood, with a series of pictures of Dad and his smashed car resting on the table in front of the two of us. As he did the introduction remarks, sweeping his glance around the table he had to keep looking at those pictures.
On behalf of grieving families everywhere we at Truck Safety Coalition presented Mr. Secretary with two collage panels that showed over 120 pictures of the faces of crash victims. Sadly, that's just a fraction of the 5,000 people that are killed each year in truck crashes, or the 100,000 that are severely injured each year. Dad's photo was among those on the collage. We told the Secretary that we appreciated his well-known and often voiced commitment to safety. But that we'd heard it before and we were skeptical. Eventually our skepticism irritated him, but I don't think he'll forget us. We asked that the Hours of Service Rule (the number of hours a truck driver can drive in a row, and the hours of required rest) be totally revamped. The agency has tried twice before to get new rules passed, each time we took them to court because their "new" rule was no better, and sometimes worse for others on the road as well as the drivers themselves. We don't want the "new" administration to just tweak what had already been attempted. We want a totally new overhaul, and one that makes sense. And we want teeth in the rules so that they are enforceable, which in our view, requires the mandated installation of Electronic On Board Recorders (EOBRs) that will record when a truck is moving and when it is at rest so that the log books can no longer be fudged in order to get more work out of tired drivers.
We were repeatedly assured that "this is not your grandmother's DOT." Well. We'll see.
This morning we had a follow-up meeting with Administrator Anne Ferro and her team alone. We presented collages to her as well, and I told her that when she looks into the faces of those people I hoped she would remember that all the decisions she makes need to be made on the side of safety. That changes have to be made in order to save lives, and of the people in the room, only she has the power to save lives. We talked more specifically about the research behind our requests, some of which we don't think she is aware. We were again assured that it's a new day at the DOT. She seems personable and interested. And, we have to say we haven't been this welcomed ever in the past. But her staff are the same people that have been there for years and years. We aren't sure that she will be able to make such significant changes in an agency (the FMCSA) that is so dominated and controlled by the American Trucking Association (ATA) who has no interest in making themselves any more accountable than they already are, which is negligible at best.
So here I am in my hotel tonight. Exhausted. Hopeful. I want so much to believe them. And truly, I can understand their frustration at our skepticism. They don't know how to make it more clear to us that things will change, they just reiterate their mantra that "Safety is their number one concern." But we need actions, not words. I so hope that they mean what they say and that they can find a way to work through the distractions thrown at them by the ATA and others who have for years blasted us as "anti-trucking." We know the economics of the issue. We know that the nation's economic well-being rests on the back of truckers. We all want to be able to go to our local stores and buy the latest and the best for reasonable prices. But we can't do it at the cost of innocent lives, both in cars and in the cabs of the trucks hauling that stuff across our country.
Dad worked in manufacturing his whole life. He focused on safety at his plants and mandated any safety issues get fixed now. I told that to Secretary LaHood. As I spoke he turned his chair and we looked into each other's eyes. I told him that when Dad saw something that was unsafe in his work environment he made sure it got fixed now. There was no long debate spanning years or argument over definitions. He'd bust butt to make sure his people were safe. If it was broken it got fixed. Immediately. I could not ask for anything less from the DOT. Mr. Secretary nodded. I hope he heard, I think he did.
Today as I was sitting in the FMCSA's conference room across the table from Ms. Ferro I would periodically glance at the picture of Dad which lay on the table in front of me. "Hey Dad!" I'd think, "Are you listening? Do you hear this? Can you believe it? Ann Ferro, the new head of the Federal Motor Carrier Safety Association knows your name! Transportation Secretary LaHood has heard your story! You're making a difference Dad! Can you even believe we're sitting here?" When I was ten years old I never would have dreamed that I'd be sitting at a table with Ralph Nader and a Cabinet Secretary. That I'd have dinner with Mr. Nader after and discuss safety issues. It goes to show that you just never know. Before 2004, I never knew. Sometimes I wish I still didn't know. But I can't discount the personal growth all of this has given me.
Tonight I cry easily, the result of the stress being released. I slept for four hours after I got back to the hotel. In the middle of the day. This is so important. We are so close to having an impact. We have made a tiny chink in the DOT armor…they know we're out there and they know we aren't going away. But the personal cost to us is beyond measure, both in the loss of our family member and to ourselves personally. Reliving the details of that terrible day, the details of the way we each lost someone we loved takes its toll. As one woman who has been working on this for over twenty years said, "It feels like we're going through the funeral every time we do this." It would feel so good to be able to put this all behind us, to move on with our own lives, hold those we love close in a more personal, less public way.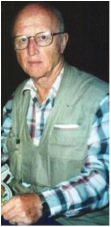 But we can't. Because those 120 faces looking out of that collage are asking for help to save lives. And no one is going to do it but us. The price we paid has to have been worth something. I can't express how much I hope it was.
After today's meeting I toured the Library of Congress. On a wall there I read "They are never alone that are accompanied with noble thoughts." I have heard over and over again from victims' families how alone they felt before they found our group. I hope our noble thoughts comfort us all as we work through these difficult issues.
Love you Dad.