Build a Successful Campaign to Raise Funds for TSC
Starting a fundraising campaign for TSC has never been easier. It only takes a minute to set up a peer-to-peer campaign through Facebook.  
1. Decide to make a difference. 
2. Name your fundraiser. 
3. Choose a photo. 
That's it. You're ready to start raising money to help families affected by truck crashes. Will you join the cause?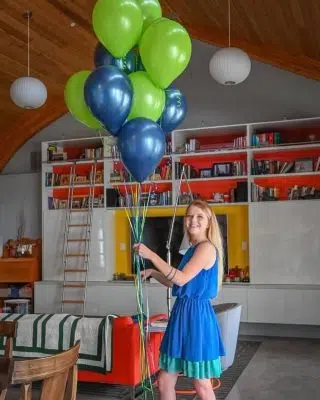 Donate Your Birthday
This year, your special day can have double the impact; celebrate friends and family while also supporting truck crash victims.
Fundraise On Your Crash Anniversary
You will always remember when your crash anniversary is approaching. Raise funds for TSC to help make it less likely this will happen to anyone else.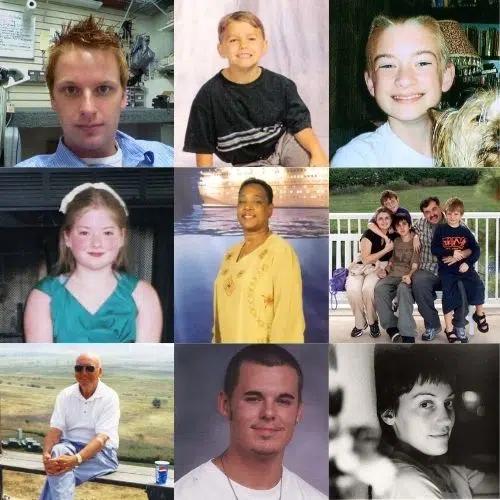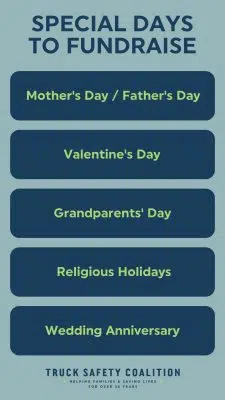 Fundraise For A Special Event
Make your next special occasion extra-meaningful by honoring the day of meaning with your own TSC Fundraiser.
About Peer-to-Peer Fundraising On Facebook
Facebook fundraisers are easy for users to create on their own and very popular across the platform. You've probably already seen them yourself! These fundraisers are common ways for users to celebrate birthdays and holidays, or to honor loved ones. 
Once you are logged onto Facebook, find the "Fundraisers" page and click on "Raise Money." You can then type in "The Truck Safety Coalition". The CRASH Foundation will appear. Select it as your nonprofit; the CRASH Foundation is our formal nonprofit name. You can also select Parents Against Tired Truckers (P.A.T.T.), if you prefer. With your nonprofit selected, you can create your target fundraising goal. A dedicated fundraising page is automatically created for you. Simply share and promote it to all of your friends' Facebooks!
Need Support?
Don't be shy about getting in touch. If you have questions or need help, then send us an email at info@trucksafety.org.
Not ready to start your campaign? No problem! You can make an impact today with a direct donation, or honor your lost loved on our Monthly Giving Memoriam Wall with a recurring donation. Thank you for supporting the Truck Safety Coalition!