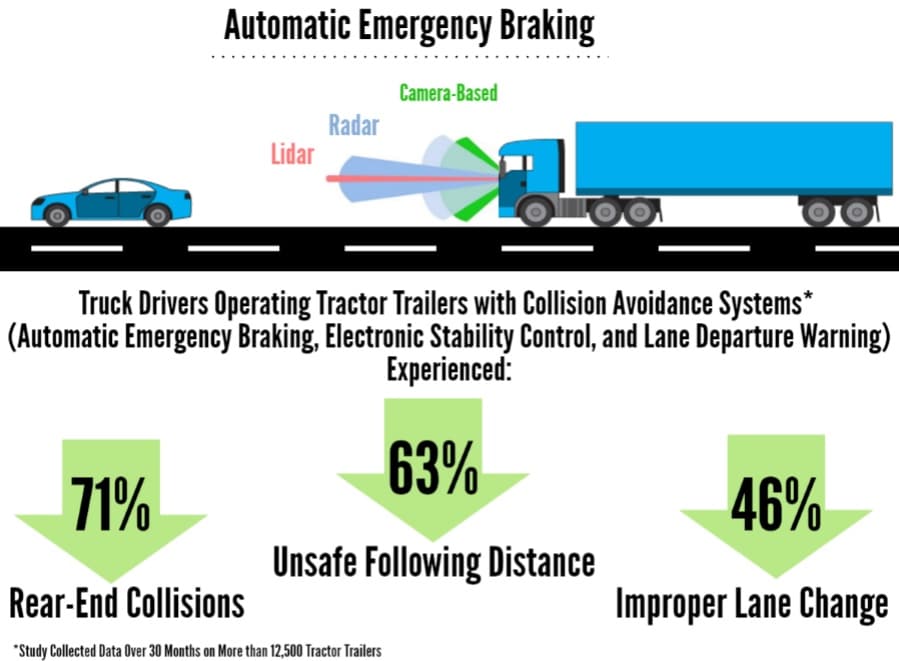 Automatic Emergency Braking (AEB) technology is a proven highway safety technology that could and will save countless lives and prevent injuries.  Unfortunately, after years of study and successful use by leading motor carriers, this technology has yet to be required for commercial motor vehicles.  As the public endures continued delays to require equipment that is readily available, families across the nation have had to pay the ultimate price.
In order to prevent these needless deaths and injuries, the National Highway Traffic Safety Administration (NHTSA) should mandate AEB technology on all large trucks with a gross vehicle weight rating of 10,000 pounds or more. While the agency granted the petition submitted on February 19, 2015 by the Truck Safety Coalition, Road Safe America, Advocates for Highway and Auto Safety, Center for Auto Safety this past October, action is long overdue and we call on NHTSA to produce a final rule.
NHTSA estimates that current generation AEB systems can prevent more than 2,500 crashes each year and that future generation systems could prevent more than 6,300 crashes annually. Every year a full implementation of AEB is delayed, research estimates that 166 people will unnecessarily die and another 8,000 individuals will suffer serious injuries. In a September 2018 study, the NHTSA found that AEB systems have an incremental cost to the end user of $70.80-$316.18.
To save these lives, prevent injuries, reduce costs, and ensure families remain whole, we call on Congress to immediately mandate AEB technology in all large trucks by passing H.R. 3773, the Safe Roads Act. To get involved in this effort, we invite you to send a message to your Senators and Representative to educate them about the benefits of requiring this technology in the heaviest vehicles on our roads.
Links to More Information on Automatic Emergency Braking (AEB) in Large Trucks:
Government
National Highway Traffic Safety Administration (NHTSA)
Study on Cost and Weight of Forward-Collision Warning and Automatic Emergency Braking in Large Trucks
National Transportation Safety Board (NTSB)
The Use of Forward Collision Avoidance Systems to Prevent and Mitigate Rear-End Crashes
Federal Motor Carrier Safety Administration (FMCSA)
Research and Testing to Accelerate the Adoption of Automatic Emergency Braking (AEB) Systems in Commercial Motor Vehicles (CMVs)
Transportation Security Administration (TSA)
Vehicle Ramming Attacks: Threat Landscapes, Indicators, and Countermeasures
Federal Register
Grant of petition for rulemaking: Federal Motor Vehicle Safety Standard; Automatic Emergency Braking; NHTSA-2015-0099
AEB Manufacturers
Meritor Wabco
OnGuardACTIVETM Collision Mitigation System
Meritor WABCO's OnGuard™ Collision Mitigation System Marks 10th Anniversary
Bendix
Bendix Continues Ongoing Commitment to the Improvement of Highway Safety
Detroit (A Daimler Subsidiary)
AEB is Standard on some of the most popular truck models:
Mack Anthem, and
Research on Effectiveness of AEB
AAA Foundation for Traffic Safety
Automatic Emergency Braking Systems: Leveraging Large-Truck Technology and Engineering to Realize Safety Gains
National Association of City Transportation Officials (NACTO)
Optimizing Large Vehicles for Urban Environments: ADAS
SAE International
Effectiveness of a Current Commercial Vehicle Forward Collision Avoidance and Mitigation Systems
UMTRI
Shiny-side Up: Advanced Crash Avoidance Technologies That Can Reduce Heavy Truck Crashes
Media
Forbes
Automatic Braking In Trucks Will Lag Cars By Years
Commercial Carrier Journal
Emergency braking an area where trucking can lead 4-wheeler technology
Trailer-BodyBuilders.com
Logistic companies, fleets reporting significant reduction in accidents with collision mitigation, RSC, ESC
Meritor Wabco Collision Mitigation System Improves Safety: Study
Reuters
VW to step up spending on automated truck technology
Deutsche Welle
Automatic brakes stopped Berlin truck during Christmas market attack
TRUCKS.COM