The Truck Safety Coalition (TSC) is a partnership between The Citizens for Reliable and Safe Highways (CRASH) Foundation, and Parents Against Tired Truckers (PATT).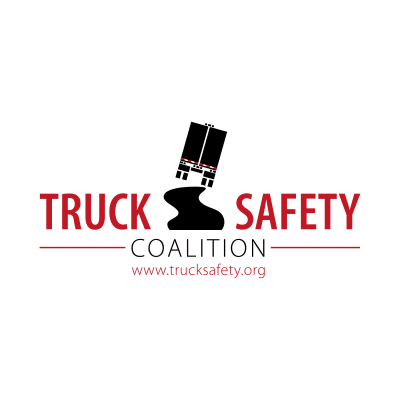 The Truck Safety Coalition is dedicated to reducing the number of deaths and injuries caused by truck-related crashes, providing compassionate support to truck crash survivors and families of truck crash victims, and educating the public, policy-makers and media about truck safety issues.
About CRASH
CITIZENS FOR RELIABLE AND SAFE HIGHWAYS
The commercial trucking industry in the United States is plagued by numerous safety problems. Oversize, overweight and speeding trucks, truck driver fatigue, substandard vehicle maintenance, and insufficient regulatory enforcement are all obstacles to safe trucking operations. Thousands of trucking companies consistently place productivity concerns over issues of safety. But the U.S. Congress, regulatory bodies, and trucking interests have a joint responsibility to truck drivers and to the motoring public to make truck safety a top priority. Safety can be an integral part of trucking operations, and it is the goal of CRASH to see that government works with trucking interests to set safety as their highest priority.
As a grassroots force, CRASH is dedicated to achieving the following goals:
Reducing the number of injuries and fatalities caused by truck related crashes.
Providing compassionate support to truck crash survivors and families of truck crash victims.
Raising public awareness of important safety issues.
Educating legislators on issues related to truck safety regulation.
Maintaining truck size and weight limits at current levels.
Reducing the problem of truck driver fatigue.
Improving truck maintenance standards.
About PATT
Parents Against Tired Truckers was formed when a truck driver fell asleep at the wheel of his 80,000 pound rig, killing four innocent teenagers. There were no criminal charges (not even a traffic ticket) brought against this truck driver or the trucking company for their deaths. Thus, PATT was formed in May of 1994. We have grown from a Maine grassroots group to a Nationally recognized organization. We have been successful in bringing the fatigue issue to the forefront at National events thoughout the United States. Although misunderstood by some, PATT is not anti-trucker. In fact, many truck drivers are applauding us for addressing issues that they themselves cannot for fear of losing their jobs.
PATT is working in the following areas to foster changes that place the public's safety first:
Hours-of-Service rules that promote safety, take into consideration circadian rhythms, and provide sufficient time for drivers to obtain quality sleep.
Drivers paid for all hours worked.
Mandatory posting of the STAA 3113 Poster (Drivers Rights) Carrier, Shipper, Broker, Freight Forwarder, Receiver accountability and liability for their involvement in illegal shipments and violations of Hours-of-Service regulations.
On-Board Computers.
Availability of sufficient, safe rest areas.
Shipper Loads – Drivers Drive – Receiver Unloads.
Public education on fatigued driving.